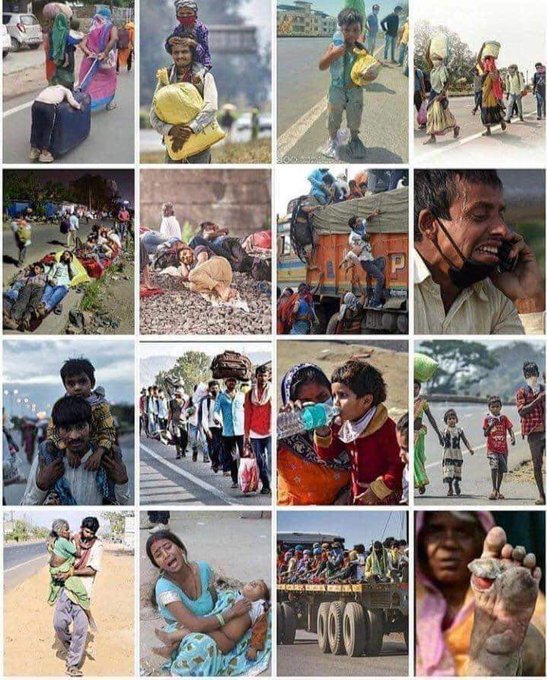 ONE INDIA—we hear about that often during these Covid-19 times. But the disease is proving that we are far from achieving unity. Look at the following reports.
Karnataka Closes Kerala Border, 7 Die Due to Delayed Medical Assistance
Telegana Stops Issuing Passes to Migrant Workers and Others Returning from Maharastra, Gujarat and Andhra Pradesh.
Karnataka Bans Entry of People from Gujarat, Maharastra and Tamil Nadu till May 31
Kerala Stops Malayalees Returning From Other States at Border
1000 Buses from Rajastran Dispatched from Alwar Stopped at UP Bharatpur Border by UP Cops
40 Haryana Buses from Gurgaon with Stranded Migrants Were Sent Back by UP Police
Indian States were stopping their own people from entering the State on the ground that they were coming from Covid-hit red zone, not to speak of people from neighbouring States. The BJP Government in UP not only refused entry for buses from Congress-ruled Rajasthan but also from BJP-ruled Haryana. So, the migrant drama played out in UP was more than a Congress-BJP tussle.
Centre fails to lead
The Central Government did not intervene or coordinate movement of people wanting to return home for nearly two months now. All it did finally was to send some trains here and there without waiting for clearance from the States. However, this did not address even part of the problem. In fact, the States were acting as if they were different countries and returning workers were refugees coming to their States. This happened because the Centre did not take overall responsibility for Covid-19 control.
The Union Government, however, tried to achieve a form of paramountancy by dictating orders to the State governments on lock down. But, it failed to address critical issues like financing the fight against the disease and addressing inter-State issues such as that of the migrants, and even inter-State movement of patients. Much of the resources for the fight in terms of equipment, personnel et cetera had to be mobilised by the States. The Central agencies other than the ICMR played hardly any part.
Soon, the Centre lost the plot. By the end of the first phase, Prime Minister Narendra Modi, who announced the lock down without consulting anyone, started consulting the Chief Ministers. By the time, he announced the fourth phase; the Centre had to concede more freedoms to the States. This was despite the fact that the lock down measures hardly attracted any Opposition from the States. The States were allowed additional borrowing from the market and they went into a 'self-reliant' mode as if they had embraced the Atma Nirbhar slogan of the Prime Minister. The borders were made as impermeable as possible, often citing order of the Union Home Ministry.
The Kerala Example
Kerala had done well in containing the disease, but miscalculated on what the lock down will or will not achieve elsewhere in the country. Its achievements were largely the result of early detection, isolation, contact tracing and better care. It also looked after the migrant workers. The lock down at the national level made it easy for it to enforce social distancing and adopt precautionary measures including closure of places of worship and other establishments.
In its bid to keep its record intact, it delayed steps to facilitate return of Malayalees outside the State and abroad. This was despite some States like UP bringing back students from Kota in Rajasthan. In fact, Kerala could have asked the Centre to facilitate return of Keralites to the State and migrants to their respective States, after the first phase.
Despite claims to the contrary, it was also not well-prepared for a large influx of Malayalees from outside. This caused crowding and other issues at the border check posts. The migrant workers became restless as their return was being delayed, often because other States were also trying to keep matters pending. Hence, Kerala too had at least isolated cases of migrants trying to reach their homes on trucks and cycles. Even now, the mess is far from over. The State did not operate a single bus or Sramik train for Keralites from Bangalore, Hyderabad or Chennai till now. Keralites had to arrange their own vehicles for their return to their homes at high costs. Sramik trains from Delhi and other places are yet to reach Kerala.
There is still no national plan as to how to deal with Covid-19 other than extending lock downs. Full mobility may not be restored at least until July. Kerala has a total lock down on Sundays, the scientific reasoning of which is unclear other than delaying the infections by a day or two. Lower business hours and total closures on Sundays could only increase the crowd. We still have no trajectory either at the national or State levels as to what is to be achieved even by July.